What is Coinflation?
I made the word up. Doesn't really exist. Well, I guess it does exist now, but you won't find it in the
dictionary
. If I was asked to write a formal definition for
Webster's
it would probably look something like this:
coinflation [ koin-fley-shuhn ]
noun. 1. A persistent rise in the metal value of silver and base metal coins. 2. An inflationary effect on coins. 3. The difference between the metal value and face value in coins.
How would you use it in a sentence? How about, "Since coinflation is accelerating, I'm not going to dump these pennies into the
Coinstar
machine at the market and receive face value." Or, "I'm not seeing many copper cents in circulation anymore, I'm guessing we're seeing a little coinflation here."
Base Metal and Silver Price Trends
The trend is up. Copper/Nickel/Zinc prices move in either direction primarily based on short-term physical demand and speculation on economic manufacturing forecasts. On the supply side, mining isn't keeping up with demand and the market has responded with higher prices. Hoarding coins is certainly one way to invest, but investing in major mining producers can be more profitable.
Freeport-McMoRan Copper & Gold Inc.
and
Teck Resources Limited
have produced excellent returns and are worth looking into further.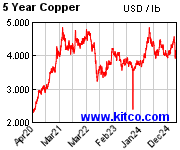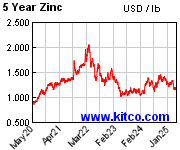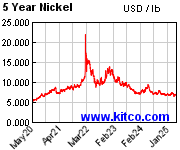 Silver is a slightly different story. It has moved from the $4.50 range in 2002 to over $48.00 in 2011 and has the potential to run much higher because of its role as a monetary metal in inflationary environments. Silver coins are obviously very easy to buy and sell at any coinshop or online dealer. On the equity side, I recommend doing your own research, but the
Central Fund of Canada
or
Sprott's Physical Silver Trust
are alternatives to physical bullion.
About the Website
Coinflation has been referenced in
The Wall Street Journal
,
Forbes Magazine
,
Marketwatch
, and many local newspapers across the United States. My favorite quote from the WSJ is below, which sums up the situation we're in beautifully:
Market forces, not metal prices, determine the value of American currency. Yet Americans persist, on websites like coinflation.com, in tracking the value of the metal in their currency.

- Elizabeth Williamson, Wall Street Journal, May 10, 2010
New features are usually added every month (like the
silver melt value calculator
) and articles about coins and inflation are posted daily. The pages are template-driven and a
korn shell script
updates coin values with the current silver and base metal prices. Other interactive features are built using
PHP
and
MySQL
.
In September 2011, Coinflation.com was purchased by
Collectors Universe
. See the press release
here
on the PCGS website.
This live metals price feature is the same feed used by over 650 coin dealers who conduct business on
Certified Coin Exchange
, the leading coin/bullion dealer exchange network on the web. Gold and silver coins listed on Coinflation are updated every 60 seconds when markets are open.
Interested in advertising on Coinflation.com?
All advertising space is coordinated through the
Google Adwords
program. In addition, more customized advertising will be offered and information should be available soon on the
PCGS Advertising page
.
If you have a question about the website, please read the
FAQ
page.
Otherwise, we can be contacted
here
. Due to the recent surge in traffic (and subsequent emails), we haven't been able to respond to every message.
We do have a Twitter account now, located at
twitter.com/coinflation
.
Thanks for visiting.